How to Ensure Guests Feel Safe in Your Hospitality Venue
As bars, restaurants, cafes and hotels re-open across the UK, making customers feel safe and confident in-venue is a top priority for hospitality operators. This safety undertaking is about much more than reassurance and brand reputation – getting it wrong may have significant consequences.
Last month, the UK Government published new guidelines for the hospitality sector, but there is no 'one rule fits all' scenario, since venues differ so much in terms of size, client base, and how they operate.
We have been helping clients across hospitality sectors re-open for business and have gathered advice from industry experts outlining some of the most effective ways in which hospitality venues are safely reconnecting with their customers.
1. Communication is key
Covid-19 is likely to have a significant effect on your day-to-day business operations for some time to come. Therefore, communicating new procedures is key to ensuring your guests feel confident even before they cross the threshold. Use social media, email and booking confirmation to let customers know exactly what measures you have in place and be on hand to answer questions. 'Don't shy away from being open and honest,' says Jill Whittaker, Managing Director of Hospitality Industry Training (HIT). Provide pictures and instructions on social distancing measures and let your guests know how you will deliver service safely. Throughout the pandemic, Chipotle, a quick-service Mexican restaurant, has been very active on social media and continues to communicate its efforts effectively with customers. Check out Chipotle's Instagram page here.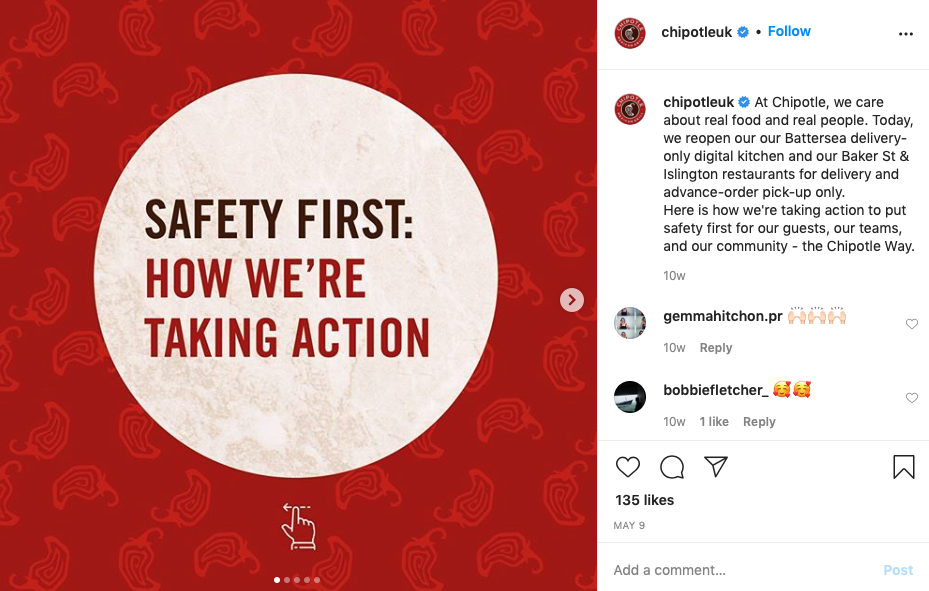 Of course, if you have invested in a touchless mobile ordering platform like wi-Q, you can share the news with your customers before they arrive so they know what to expect.
2. Staff Training
Invite your staff to collaborate on ideas and best practice as you go along. Your team members may also have some suggestions on how you can further improve processes. Jill Whittaker (HIT) also recommends that venues display posters in staff areas to remind teams of the health, safety and infection control procedures in place at work. These could also include details of the best person to contact, for example, a dedicated Infection Control Officer if they have any concerns.
If you have a new mobile ordering solution in place, staff training and engagement will transform your return on investment. Let your staff be ambassadors for your platform, helping guests to get used to this new normal.
For more training support, enrol staff onto an infection control and safe working course like this one – https://hittraining.co.uk/principles-infection-control-and-safe-working
3. Creativity
 Since not all hospitality venues have enough space to implement required health and safety measures inside, some have been getting creative with how they serve their guests. Al fresco dining is on the rise with many restaurants expanding and re-designing outdoor space. The Garden at The Berkeley is a brand new addition to the west London destination; a Mediterranean-style terrace tucked next to The Berkeley Bar. Seated at socially distanced tables, diners can enjoy fresh food all cooked outdoors on barbecues. The Chewton Glen Country House Hotel in New Milton is offering staycation packages and unlimited room service at no extra cost so guests can have complete privacy. And really thinking outside the box (or perhaps inside-the-box in this case), the ETEN restaurant at Amsterdam's Mediamatic arts centre ushered in a project called Serres Séparées, French for "separate greenhouses," that allows diners to sit in individual glass enclosures along the Oosterdok Marina.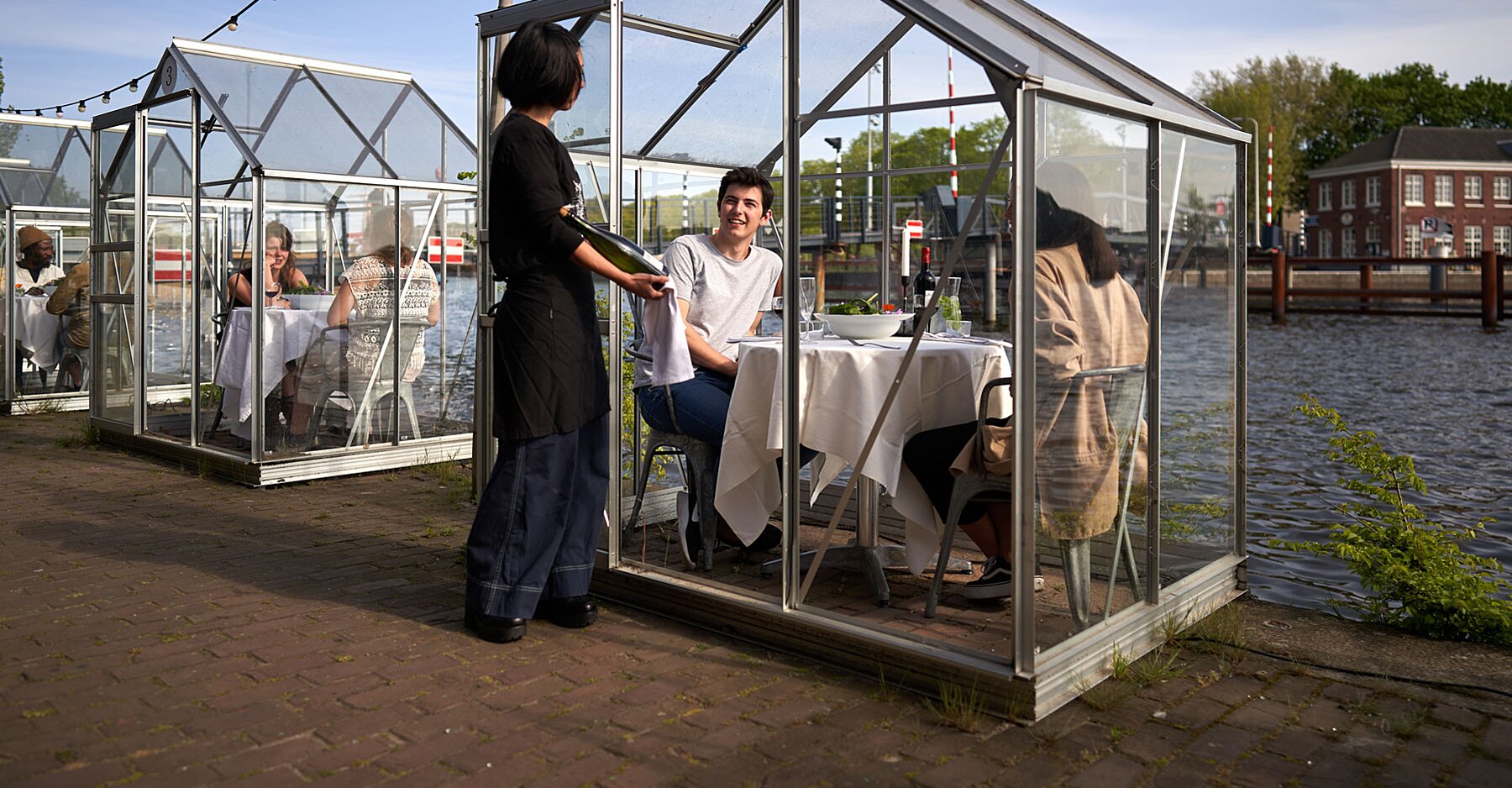 TIP: Having a mobile ordering and payment solution in place negates the risk of outdoor diners leaving without paying.
4. Pre-bookings
According to The Caterer, pre-ordering has jumped the queue as a business priority, with 34% of hospitality leaders prioritising this as a growth opportunity for their business. If you are a quick-service restaurant, you can encourage digital pre-ordering so guests don't have to wait around for their food in built-up areas, or better yet deliver it to their door!
Customers at the Black Swan in Olstead, North Yorkshire can pre-order and collect a food box containing a full three-course meal from their local.  For hotels, encourage future bookings by offering stay packages, complete transparency and security. Hilton, for instance, is now offering free changes and cancellations for new, individual reservations made by August 31st.
As a hospitality professional, no one knows their staff and customers better than you. You can follow safety guidelines but also go one step further and implement your own creative initiatives to show your guests how much you value them. This will ensure that your guests not only feel safe but also have a memorable experience. 
Want to learn more about how your our cloud-based mobile ordering? Get in touch with our friendly team for a no-obligation chat and demo.