3 hospitality trends that won't break the 2020 budget
(…and may save or make your venue money)
With less than 100 days till 2020, let's take a step back and a look at some of the most cost-effective or revenue-generating 2019 trends that you can implement in your hotel or restaurant.


1) Sustainability
Beat the receipt
After the UK government announced a plan to ban on plastic straws in late 2018, hospitality venues and consumers have slowly but surely got used to their paper alternatives. However, the battle on wasteful consumption does not stop there. It appears the paper receipt is next in line – despite California lawmakers recently rejecting a bill that would ban them.
A UK-based technology company, Flux have launched a campaign to beat the receipt and already have brands such as KFC, Eat and Costa on board. Instead of issuing customers a paper receipt, Flux's technology allows customers to view what they purchased from venues inside their banking app. With support for multiple banks, the technology is touted to have already saved thousands of receipts. For millennials who are used to digital banking, the technology may be a cost-effective and obvious way to demonstrate that your venue has sustainability practices in place. Another cost-effective way to 'beat the receipt' is to deploy digital or mobile ordering in your venue, but we will get to that shortly…
Food waste
Who would have thought you could deploy artificial intelligence to watch your bin? Well, that's exactly what Winnows Vision offers to help venues reduce food waste. The AI-powered solution monitors the amount of food used during preparation and how much is thrown in the bin to determine which foods are wasted the most.
The technology is currently live in IHG and Hilton properties. Winnow claim that the Hilton Dubai Jumeriah, who also have wi-Q, have cut food waste by 70% in just a 12 week period producing a $65,000 saving in reduced food costs.


2) On-demand F&B and services
A new report from PSFK shows that consumers now expect restaurants to provide an experience similar to the on-demand services such as Uber and Airbnb.
While this may seem like a daunting service to offer, it can be implemented very cost-effectively, all while affording your venue increased revenues and improved operational efficiencies.
Gone are the days where venues would need to invest tens of thousands in custom development work for anything. There are now numerous services which allow venues to add digital ordering to their list of amenities – something the millennial and younger generations will look for around a hotel pool, in your coffee shop and their hotel room.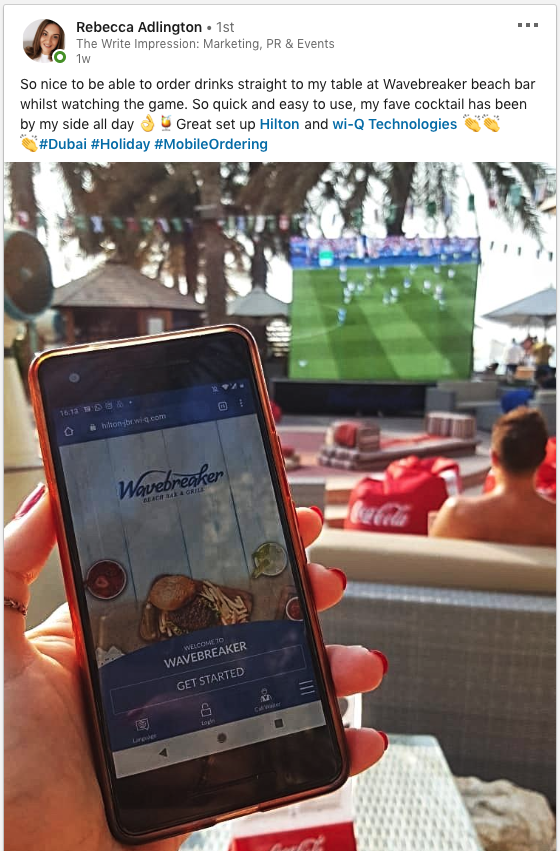 With a service such as wi-Q, which does not use a mobile app and is charged on a low-cost monthly model, it is easy to offer digital ordering in a smaller area of your business before expanding out. For more information please visit our Customers for case studies on deployments of wi-Q.


3) 'Instaworthy' experiences
'Instaworthy' might be one of our least favourite words, but the hunt for the visually satisfying pictures and videos to share on one's feed is actively shaping businesses around the world.
Creating instagrammable moments is "now part of architectural briefs" says architect, Farshid Moussavi.
We covered this phenomenon in a blog earlier this year, covering how venues can encourage digital engagement by ensuring that its interior and even architectural design are visually satisfying.
While this strategy can be costly, it can be more easily and affordably applied to your food and drink menu. By infusing some creativity and originality into your food and drinks menu, with a particular focus on how it is presented, you encourage snappy-happy millennial and younger generations to photograph and share pictures of your food, drinks and venue. This can increase the reach of your venue quite dramatically and may even drive footfall to your restaurant or new guests to your hotel.
For more advice and prices for offering on-demand services, F&B digital ordering or to book a demo of wi-Q, please email us on [email protected]